Here is the before I really do not like this gaudy rugged look. It was one of the biggest eye sores of the house. The grout really made it even uglier. It was almost black which does not match orangey colored rocks. I figured paint was about my only option besides ripping it out which I really didn't feel like doing. I didn't know how it was going to look. I did a few testes with all gray which was to drab, then I did all white which was to stark. I brought out my arsenal of colors and started mixing. I mixed gray and white and I used my hand to spread it on the rocks. Once I got the results that looked more like natural gray stones, I mixed a tiny bit of brown in to make it look real. I also painted all the grout which to forever. If any inquiring minds want to know I stayed up two night in a row till 2:00 am to get it done. I actually am very productive late at night if I can mentally prepare myself. Cookies and Coke are my fuel (:
AFTER
What do you think? Can you see why I love paint. The cheapest biggest bang for your buck. In my case this was free. I also made the drop cloth curtains for $10. I love neutral colors.
Thanks friends for the kind remarks from my previous post.
I added this to wow us wed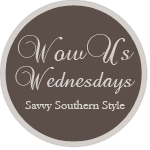 savvy southern style